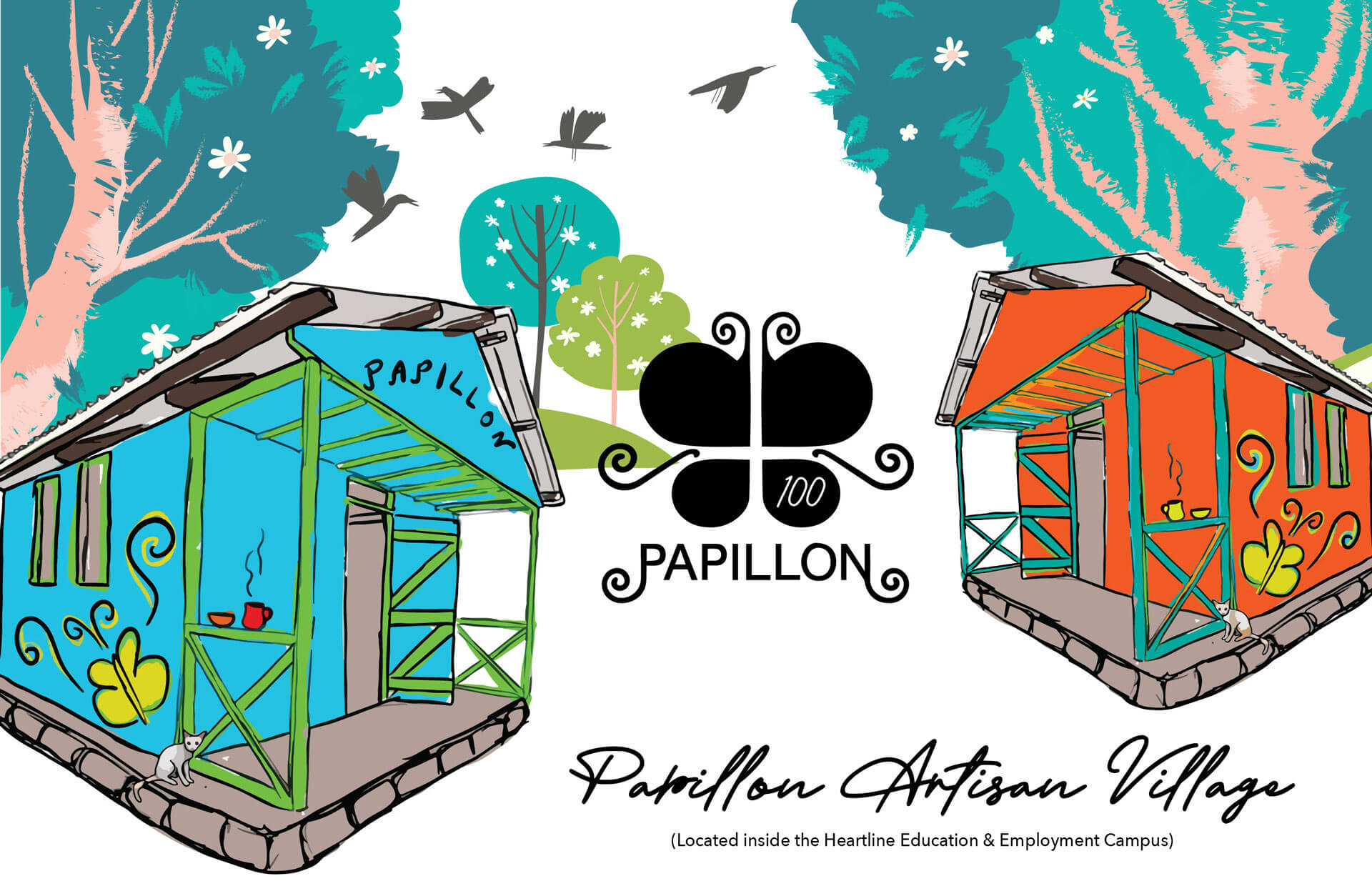 We are also looking for monthly partners that are invested in what Papillon Empowerment is doing to impact families in Haiti. Special incentives will be given for recruiting monthly givers. If you have any questions, please contact us
It Takes a Village
We're so excited to be moving to our new location in Haiti but we need your help! We are hoping to find 100 people committed to raising $500 for the new Papillon Artisan Village located on the Heartline Haiti Campus. Check out the amazing incentives below and be a part of building the Papillon Artisan Village.
By signing up to be a part of the Papillon 100, you are agreeing to the following: I am committed to raising at least $500 for the relocation and development of the Papillon Artisan Village in Haiti.
Just for Joining: Access to the Papillon 100 private Facebook group where Shelley will be posting regularly more personal updates about what is going on in Haiti and give you pictures, stories and videos to help with your fundraiser (or sales) needs.
Raise $500: Win a hand engraved necklace made by Papillon Artisans with the word or name or phrase of your choice.
Raise $1000: Win a handmade mug personalized mug of your choice
Raise $2500: Win a set of 6 handmade mugs plus a mural painted in your honor on the new artisan campus.
Raise $5000: Win a plaque with your name and a favorite quote for one of the artisan work shops plus all of the previous incentive items.
Raise $10,000: Win a trip to Haiti for two with Shelley to see the artisans plus all previous incentive items.
$24,000 to build 4 artisan workshop houses ($6000 each).
$ 6,000  to build out space for nursing mothers.
$ 5,000  to install pavilion roofing to shade the artisans when they work outside.
$ 3,000  to enclose an existing structure on the grounds to make it rain proof.
$ 1,000  for painting supplies.
$ 1,000  to move our generators.
$ 3,500  to move all kilns and furniture.
$ 5,000  to transport our solar panels and build roof structure to hold them.
$ 2,500  to set up the electrical wires, transformer, batteries, etc.
$ 4,000  to employ Haitian nationals for the work to be done.
$ 1,000  to cover miscellaneous expenses.
$56,000 total anticipated cost of the relocation & development of Papillon Artisan Village